Welcome to ANNO 1685
A Golden Age Monument
History:
Five stately canalhouses were built aside each other in the 17th Century to replace an Italian Opera: one of them "ANNO 1685". Here lived a number of wealthy families and artists throughout the ages.
At the Leidsegracht ( = waterway to the town of the University of Leiden) the two of you, plus one or two children, can enjoy living in a Bed & Breakfast apartment on different levels with your own separate entrance facing the canal and with a lovely direct view over one of the most beautiful central grachts in Amsterdam. It is situated between the Keizersgracht and the Prinsengracht. Very suitable also for singles, both for vacation or for work.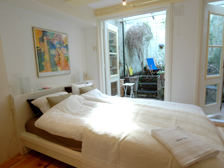 From the charming kitchen you reach a large bedroom. One step from your bed through double doors: your own little garden, with a covered windfree breakfast terrace . This selfsufficient vacation rental, a great holiday apartment, very recently restorated and refurbished, is 60 square metres and has all the luxury you might like: a large LCD television, free internet via cable, complete kitchen (oven and microwave), a splinternew bathroom, and lots of historical details.
ANNO 1685: in the heart of historical and cultural Amsterdam, with a large variety of cafes and restaurants (two of them a few houses away), historical and modern, a surprisingly quiet oasis in the middle of a world city.
Please contact us for inquiries and booking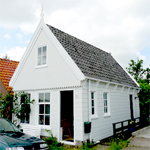 Click here if you would like to spend a holiday in this charming country house on the Ijsselmeer, just 10km from Amsterdam.